Foute bingoshow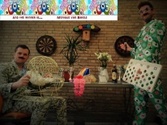 Zijn jullie allemaal hoogbejaard, zijn de kussentjes op de stoeltjes zacht genoeg en staan de gehoorapparaatjes aan? Tijd voor de bingoshow! Wij maken bingo weer cool, vet en hip. Twee jonge presentatoren zullen je de show van je leven bezorgen. En niet alleen zij.. Iedereen wordt betrokken bij de grootste, meest grappige bingoshow van Nederland!
Meerdere winnaars
Deze bingo heeft meerdere winnaars. Maak kans op 10 grootse prijzen of ga er vandoor met de bingoplayer of the year award! Wie heeft de leukste bingokreet in huis en scoort hiermee de hoofdprijs?

Inclusief hilarische muziek, rare spellen om gratis cijfertjes weg te strepen en 2 presentatoren in quizpak die niet op hun mondje zijn gevallen. Wees voorbereid en pak die prijzen!


extra's
Lunch

| | | | |
| --- | --- | --- | --- |
| 1. Escape the City - Lunch | € | 12,50 | |

| | | | |
| --- | --- | --- | --- |
| 2. Escape room - Lunch | € | 12,50 | |

| | | | |
| --- | --- | --- | --- |
| 3. Out of the Box - Lunch | € | 12,50 | |

| | | | |
| --- | --- | --- | --- |
| 4. Vetste Quiz van NL - Lunch | € | 12,50 | |

Diner

| | | | |
| --- | --- | --- | --- |
| 1. Escape the City - Diner | € | 25,00 | |

| | | | |
| --- | --- | --- | --- |
| 2. Escape room - Diner | € | 25,00 | |

| | | | |
| --- | --- | --- | --- |
| 3. Out of the Box - Diner | € | | |

| | | | |
| --- | --- | --- | --- |
| 4. Vetste Quiz van NL - Diner | € | 25,00 | |
Totaalprijs p.p. € 29,50


excl. btw
Recensies
kkk - 20170904yuanyuan
|
geplaatst op 2017-09-04
cijfer: 5