Kloten in de stad!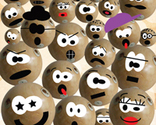 Is klootschieten nu een sport of een spel? Het is zeker geen folkloristisch schouwspel, maar een echte teamsport! Dit spel is overal in Nederland te spelen en u leert het snel! Klootschieten is snel te leren, wie een bal kan gooien kan in wezen ook klootschieten. De kloot doet echter niet altijd dat wat u wilt. De bal volgt namelijk niet altijd in een rechte lijn. Maar belandt ook wel eens in de gracht of midden op straat...
Uw uitje:
In een stad naar keuze zijn diverse klootparcoursen uitgezet. De parcoursen moeten allemaal worden afgelegd met verschillende kloten (o.a. hout, rubber, plastic).

Uw groep wordt na de ontvangst door uw klote-begeleider verdeeld in verschillende klote-teams. In elk team wordt een klote-teamleider gekozen. De klote-teamleider houdt de scores van het team bij. Tijdens het klootparcours moet u ook samen met uw klote-teamgenoten enkele brainkrakers oplossen. Het klote-team dat in zo min mogelijk beurten werpt en de meeste klote-vragen goed beantwoordt is de winnaar en ontvangt een klote-prijs!

Maar zo makkelijk is het niet, tijdens dit bedrijfsuitje komt het aan op; concentratie, behendigheid, mentale spierkracht en teambuilding.
Dit uitje is inclusief:
- Klootschieten
- Klote-opdrachten
- Professionele begeleiding
- Één consumptie p.p.
- Versnapering voor onderweg

Prijs:

Basisbedrag tot 14 pers. is 250,- excl. BTW*
Voor 15 pers. en meer 17,50 p.p. excl. BTW
* Dit uitje is alleen vanaf 10 personen te boeken in Amsterdam, Rotterdam, Utrecht, Den Bosch en Groningen. In alle andere Nederlandse steden vanaf 15 personen.
Wanneer u bereid bent om voor het minimale aantal te betalen, kunt u ook met minder personen boeken.
U kunt nu gaan kloten in heel Nederland!
extra's
Lunch
Diner
Aansluitende dagactiviteiten
Totaalprijs p.p. € 17,50


excl. btw
Recensies
LarryInalp - LarryInalp
|
geplaatst op 2017-11-18
cijfer: 3
viagracanadaa com canadaviagra viagram canadaviagra [url=http://rxsildenafilusa.com/]mens viagras pills[/url]
Plaats een recensie
Hoe populair is dit uitje
Laatste 4 weken
2012
2013
2014
2015
Totaal
Bekeken:
138x
2095x
1455x
1365x
762x
11750x
Gegevens
Aantal personen: 10+
Richtprijs p.p.: € 17,50
(excl. btw)
Bedrijf:
Uitjes.nl
Arrangement bewaren
» Direct contact opnemen / aanvragen
Extra opties bij deze vermelding
Veelgezochte bedrijfsuitjes