Spannend Dineren met een Spel- of Showelement.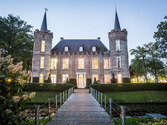 Dineren was nog nooit zo spannend met een spel- of showelement. Kasteel Henkenshage en het Ketelhuis, Landgoed de Grote Beek kan het toneel zijn voor een smakelijk diner met ruime keuze uit entertainment.
Entertainment keuzes:
- Wie is de Mol?
- Ik hou van Holland
- Moordspel
- Originele Dinershows
- Moorddiner
- Ik hou van Brabant
- Musicals
- Ik hou van Kerst of Sinterklaas
- Cabaret
Menu Keuzes
Laat uw gasten verrassen met een geweldige avond met heerlijk eten.
Een van onderstaande menu's maken uw avond compleet:
MENU EECKAERDE
Warm en koud buffet met o.a. in hooi gerookte Beenham, Lasagne met seizoensgroenten en Geitenkaas, Huisgemaakte Provencaalse Kipsalade, Hele Gepocheerde Zalm, Groentesalade met Verse Tonijn, Rauwkostsalades en Broodpakket


MENU KETELHUIS
Warm en Koud Buffet met o.a. Zalm in Witte Wijnsaus, Bourgondische Varkensrollade, Forel en Gerookte Zalm met Zeewier, Ardennerham met Honingmeloen en Portstroop, Wraps met Geitenkaas, Rauwkostsalades en Broodpakket



Uiteraard is dit enkel een kleine greep uit ons assortiment.
Totaalarrangement inclusief dranken (Bier, Fris, Wijn en Koffie/Thee) - vanaf € 69,95 p.p. excl. btw

extra's
Er zijn nog geen extra opties voor dit arrangement
Totaalprijs p.p. € 69,95


excl. btw
Recensies
HaroChaire - HaroChaire
|
geplaatst op 2017-09-14
cijfer: 6
Cialis Generique Tadalafil 20 Mg http://cialtobuy.com - cialis Kamagra Oral Jelly Test Cheap Levitra No Prescription Dog Reaction Amoxicillin Amoxicillin Used For Stds Leviteracetam Shopping cialis Viagra E Prostata
Meer recensies
HaroChaire - HaroChaire
|
geplaatst op 2017-09-13
cijfer: 2
Viagra France Livraison Rapide http://cialtobuy.com - online pharmacy Prezzo Kamagra Turchia Zithromax Side Effects In Children Best Buy Stendra Direct With Free Shipping cialis price Trecator
kkk - 20170904yuanyuan
|
geplaatst op 2017-09-04
cijfer: 3