Uitdagend Bedrijfsuitje met Spannende Activiteiten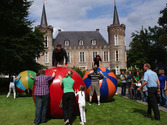 Diverse indoor- en outdoor spellen en activiteiten op uw
bedrijfsuitje
zoals:
Just Beat It, Ik hou van Brabant, Ik hou van Holland, Jongens tegen de meisje, Wie is de Mol?, Wie is de Dader?, Moorddiner, Teambuilding met reuze spellen, Schermen, Glasblazen, Karten, Volleybal, Boogschieten, Achery Battle, Bazookaball, Paint Ball, Kleiduifschieten, Mountainbiken, Haka, Spinning, Zelfverdediging, Airsoft, Bubble Voetbal, Kano varen, Segway, Zeskamp, Roofvogelshow.

Alleen bij onze locaties in Eindhoven en Sint Oedenrode. U wenst het, wij verzorgen het!
Barbecue of Buffet
Uw bedrijfsuitje is uiteraard niet compleet met de lekkerste Barbecue of Buffet van Nederland. Hierbij een kleine greep uit ons assortiment:
Buffet Eeckaerde
Smakelijk warm en koud buffet met o.a. In Hooi Gerookte Beenham, Witvis in Witte Wijnsaus, Gepocheerde Hele Zalm, Ardennerham met Meloen en Druiven, Groentesalade met Verse Tonijn, Provencaalse Kipsalade.
Spaans tapas buffet
Heerlijk warm en koud spaans tapas buffet met o.a.: Rijkgevulde Paella, Mini Hamburgertjes met Chorizo, Gevulde Courgette, Patatas Bravas, Grissini met Serranoham, Zakjes Lilijven, Spiesjes van Gamba's Crostini's.

Barbecue A
Heerlijke BBQ met o.a..:
Runderhamburgers, Papilotte van Zalm, Barbecueworstjes, Halskotelet van het Varken, Groentespies, Maiskolven, Diverse Salade, Sauzen en Broodpakket

Toscaanse barbecue
Toscaanse BBQ met o.a.:
Ossenhaasspies Pizzaiola, Spies van Vis met Lemon, Lamsspies, Spies van Tijgergarnalen, Gebakken Tomaat, Diverse Salade, Sauzen en Broodpakket
Het programma voor uw Bedrijfsuitje stellen wij graag in overleg met u samen.
Arrangement incl. dranken (Bier, Fris en Wijn) - vanaf € 69,95 p.p. excl. btw
extra's
Er zijn nog geen extra opties voor dit arrangement
Totaalprijs p.p. € 69,99


excl. btw
Recensies
kkk - 20170904yuanyuan
|
geplaatst op 2017-09-04
cijfer: 3