Vetste quiz van Nederland: Gegarandeerd!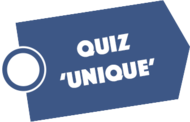 Het Spel
Met 2 presentatoren, 6 verschillende rondes en een hoge mate van interactie zorgen wij ervoor dat de gasten continue geboeid blijven. Geen seconde zal de quiz vervelen! De rondes zijn dermate verschillend dat het haast onmogelijk is voor de beste quizzer van Nederland om bij elke ronde bovenaan te eindigen. Toch is kennis wel van belang om de quiz te winnen! Laten we de rondes doornemen.
Ronde 1: Algemene kennis
Als iedereen zit en wat te drinken heeft is het tijd voor de presentatoren om zich voor te stellen. Daarna worden er teams gevormd en wordt de quiz even kort doorgenomen zodat iedereen direct wat de bedoeling is. Tijd voor de algemene kennis ronde om lekker warm te draaien. Welk team heeft de meeste algemene kennis en zal ronde 1 winnen?

Ronde 2: Waar of niet waar?
Iedereen is lekker warm gedraaid, tijd om een paar deelnemers naar het podium te halen! Iedere deelnemer krijgt van ons een verhaal wat hij of zij zo overtuigend mogelijk moet vertellen aan de zaal. Dit gebeurt door 3 willekeurige deelnemers. Aan de rest van de teams is het om te raden welk van de drie verhalen juist is. Dit zorgt voor de nodige lachsalvo's in de zaal, dat is in ieder geval waar!

Ronde 3: Fotoronde
Spreekt voor zich. Verschillende foto's komen voorbij op het scherm. Van logo's tot bekende Nederlanders tot platenhoezen. Wie weet wat er op de foto's getoond wordt?

Ronde 4: Doet ie 't of doet ie 't niet
De serieuze ronde is voorbij. Tijd om iedereen weer op het puntje van de stoel te laten zitten. Welke voetballer is bereid om 50 x hoog te houden op het podium? En welke dame denkt een minuut lang 3 ballonnen in de lucht te kunnen houden zonder dat ze de grond raken? Aan de deelnemers de taak om te raden: doet ie 't of doet ie 't niet?

Ronde 5: Nutteloze feitjes
De algemene kennis is al in ronde 1 getest. Maar wie heeft de meeste nutteloze kennis? Weet u bijvoorbeeld welk dier geen hersenen heeft?

Ronde 6: Muziekronde
Deze ronde is altijd leuk natuurlijk. Verschillende leuke nummers komen ten gehore. Wie is de artiest? Hoe heet de plaat? Of wie weet welke zin is weggelaten in de tekst?
Optioneel: muziekronde met zanger (€20,- p.p.)
Tijdens de laatste ronde komt een professionele zanger het podium op. De zanger zingt live, terwijl er vragen over het lied worden gesteld en hij heeft nog meer voor jullie in petto.. Informeer naar de mogelijkheden bij interesse!
De zanger blijft na de quiz nog een uur optreden!
DE VETSTE QUIZ VAN NEDERLAND IS INCLUSIEF
2 Quizmasters
Spelmateriaal
Afwisselende en zeer originele vragen
Vette trofee
Foto's en filmpjes
Optioneel: DJ en apparatuur
extra's
Lunch

| | | | |
| --- | --- | --- | --- |
| 1. Escape the City - Lunch | € | 12,50 | |

| | | | |
| --- | --- | --- | --- |
| 2. Escape room - Lunch | € | 12,50 | |

| | | | |
| --- | --- | --- | --- |
| 3. Out of the Box - Lunch | € | 12,50 | |

| | | | |
| --- | --- | --- | --- |
| 4. Foute Bingoshow - Lunch | € | 12,50 | |

Diner

| | | | |
| --- | --- | --- | --- |
| 1. Escape the City - Diner | € | 25,00 | |

| | | | |
| --- | --- | --- | --- |
| 2. Escape room - Diner | € | 25,00 | |

| | | | |
| --- | --- | --- | --- |
| 3. Out of the Box - Diner | € | 25,00 | |

| | | | |
| --- | --- | --- | --- |
| 4. Foute Bingoshow - Diner | € | 25,00 | |
Totaalprijs p.p. € 29,50


excl. btw
Recensies
Lbexcwritly - Lbexcwritly
|
geplaatst op 2017-11-18
cijfer: 9
viagra dosages http://medicjrapharmacy.com/ buy viagra online without prescription viagra price order viagra viagra samples
Plaats een recensie
Hoe populair is dit uitje
Laatste 4 weken
2012
2013
2014
2015
Totaal
Bekeken:
1020x
-
-
-
-
1906x
Gegevens
Aantal personen: vanaf 10 personen
Richtprijs p.p.:
€ 34,00
nu voor 29,50
(excl. btw)
Bedrijf:
Uitjesbazen
Arrangement bewaren
» Direct contact opnemen / aanvragen
Extra opties bij deze vermelding
Veelgezochte bedrijfsuitjes